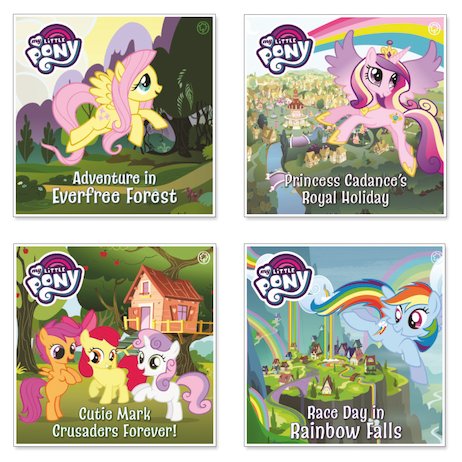 My Little Pony Picture Books Pack x 4
gbp prices

You

save

£11.97
RRP £19.96
Description
Why stay in human world? It's time to visit a dreamy world where magical ponies are in charge! Welcome to the mystical kingdom of Equestria. Unicorns, winged ponies and sonic rainbooms really exist here! Meet the colourful ponies of this perfect place. There's flying wonder Rainbow Dash, kindly Fluttershy and unicorn princess Cadance. You'll see all kinds of enchanting things in their oh-so-pretty world. But by the end, you'll be in no doubt: friendship is the best magic of all!
Charming first books from the world of My Little Pony
Heartwarming, magical tales of friends and teamwork
Beautiful colour artwork in a bright panelled layout
Enchanting series which is loved all over the globe
In this pack
My Little Pony: Adventure in Evertree Forest

My Little Pony: Cutie Mark Crusaders Forever!

My Little Pony: Princess Cadance's Royal Holiday

My Little Pony: Race Day in Rainbow Falls
FREE delivery available
Delivery Info
FREE delivery on all orders of £25 or over.
Delivery within 7 working days.
UK delivery only.
£3.95 charge for delivery on orders under £25.