Becoming a Book Champion
Becoming a Book Champion couldn't be easier!
All you have to do is follow four simple steps.

Register online
Order your Starter Kit for just £24.99! Usual price £49.99 (RRP £78.91)
Choose your online bookshop name
We will send you the link to your online bookshop and you can start selling!
Let's smash those targets!
Hit sales of £100 in the first 12 weeks in your first year and you'll receive your annual web support fee of £25 for free. The web support fee of £25 covers your shop website, web hosting, the 6-8 weekly offer changeover, marketing assets and support.
If you hit £500 through your shop each subsequent year after signup, your web fee will be waived for the following year.
If you're selling books online only, a minimum of £100 worth of orders is required every 6 months in order to remain in the programme.
Every Book Champion should aim to do at least one Book Party that benefits a school every 6 months – digitally or physically.
New party offers are released every 6- 8 weeks.
Commission rates are 20%.
When you partner with a school, nursery or party host, they will receive 10% of the total order value in free books.
Sign up today
Please note that our editors prepare a bespoke selection of books for Book Champions each offer. It will not be the same as, or include all of, the books currently available on the main Scholastic shop.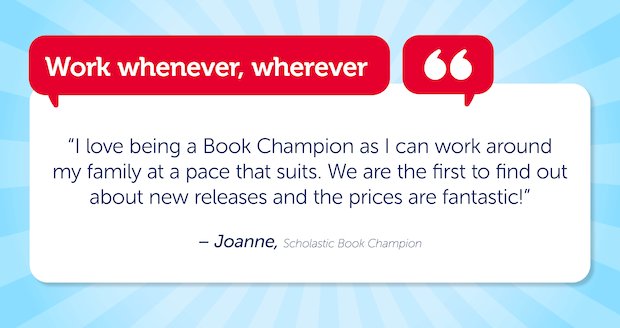 ---
Find out more about being a Book Champion
If you want to find out more about becoming a Scholastic Book Champion, please enter your email address below and we'll get in touch.